Aspire
Leading special needs families to follow Christ.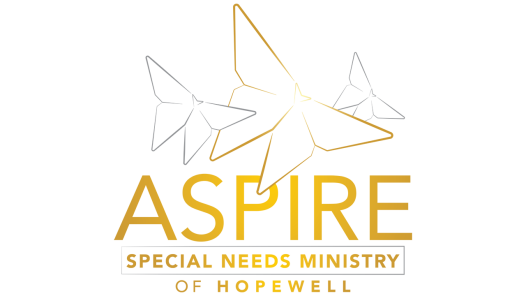 Every Sunday morning at 11a, our "Champions" have an opportunity to worship Jesus in an environment designed specifically for people with special needs. Worship is followed by a message straight from God's Word, and then an opportunity to dig deeper into the lesson. Small groups each have a chance to experience the Sensory, Light, Music and Craft Rooms.
Family members and guardians are welcome to join us, but are also free to participate in the main service at Victory Campus. This may also provide a time where you can serve on Sunday mornings, i.e.: Adventure Island Preschool or the Celebration Choir.
We do ask that you complete an intake process with us before you leave your Champion with us for worship. This process is similar to an IEP in the local school systems. Here we'll learn how to best prepare for and take care of your Champion.
Email Colette McLain or call 704.753.1084 for more information or to schedule your intake