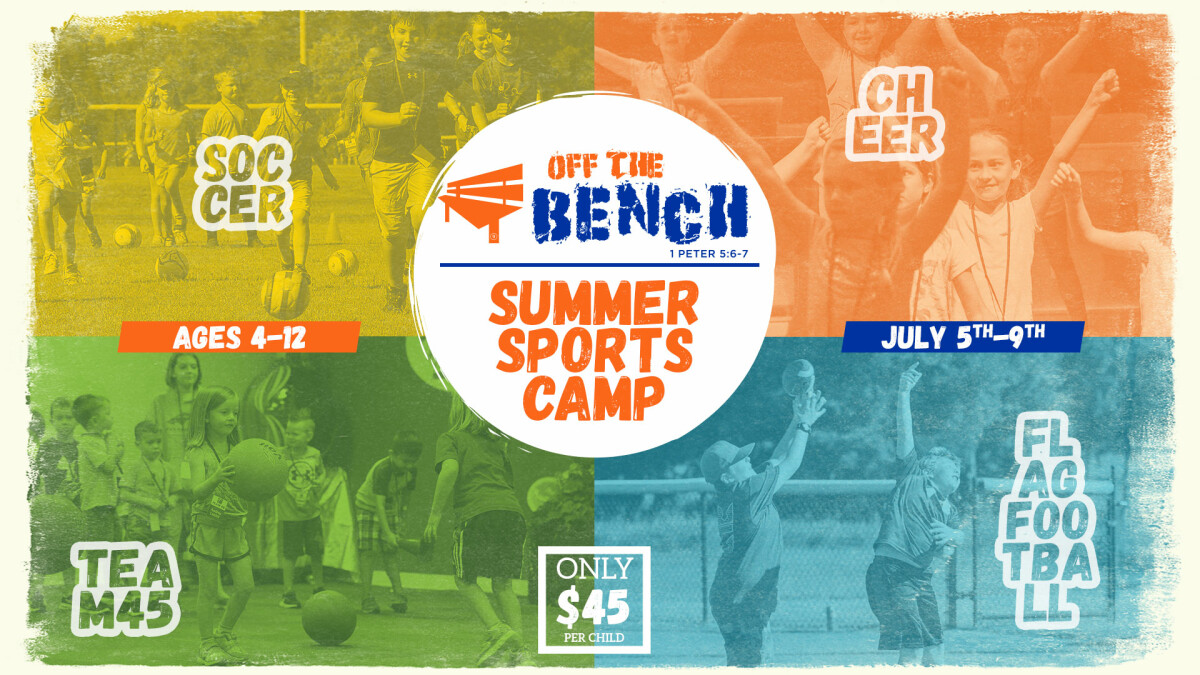 Every Friday from 03/26/2021 to 05/16/2021
Uncharted Waters Ministry will be returning for the summer of 2021 to lead the "Off the Bench" sports camp at Hopewell Baptist Church

July 5th - July 9, 2021 • 5:00 pm - 8:15pm
Registration dates are March 21st - May 16th
$45 per participant
Ages 4-12
The "Off the Bench" Kid's Sports Camp will combine Christian teaching with sport instruction and play to provide children with a fun and engaging way to discover and apply biblical truths to their lives. Members of the Uncharted Waters Sports Ministry Team and church volunteers/staff will guide children as they learn how God's ability can help them come "Off the Bench".
You have the option to choose between soccer, cheer or flag football for your older children.
Team 45 is for children ages 4 and 5. This program introduces children to the fundamentals of motion and the truth of the gospel. They join the main group for camp rallies, but spend most of their day with in their own age group. Concepts introduced include gross and fine motor skills, movement, balance, space, boundaries, and rhythm. To make Team 45 fun and safe the group is limited to the first 25.
Registration each day is 4:30pm-4:55pm and camp ends at 8:15pm Monday-Thursday and at 8:45pm on Friday.
Registration and pick-up will be in the lobby of Victory Campus at 8900 Concord Hwy.
A snack and drink are provided during the camp, but you will want to send your child with a water bottle and sunscreen.
We look forward to seeing your child on July 5th.